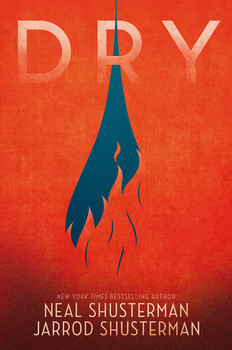 From the author of
Bruiser
comes
Dry
, a realistic fiction book about what happens when a California area runs out of water. The drought in California has been survivable with major conservation. But when the states of Arizona and Nevada break a treaty agreement and block water from the Colorado River from entering California, claiming they need it more than California does, the taps run totally dry. As neighbors turn on each other and thirst turns to violence, teenagers Alyssa, Jacqui, and Henry must make the tough choices and fend for themselves.
In my mind the book was perfect! The situation was alarming, but still realistic. The desperation and violence was frightening and disturbing but still justifiable and coherent. It was the perfect balance between educational and disturbing. Every scene raised intensity and I couldn't tear my eyes away!
People label this book on Goodreads as science fiction and dystopian, but I completely disagree. 1 in 9 people in the world currently don't have access to clean water and 3-4 million people worldwide die of dehydration and water-related illness a year. Running out of water is a real threat and a real issue that millions currently deal with in this exact situation.
Hopefully books like this can enlighten minds to the dangers of running out of water and encourage people to be grateful for what they have and advocate for water rights around the world. We need the EPA to enforce water quality laws, we need more desalination plants on coastlines, we need farmers to use drip irrigation and cover crops and rotational grazing. We need better wastewater treatment plants and limiting run-off and water pollution, holding industry accountable for toxic waste dumping out back in bodies of water.
I highly recommend this book!
Read my review of Bruiser, another book by Shusterman.
Title: Dry
Author: Neal Shusterman and Jarrod Shusterman
Publisher: Simon & Schuster Books for Young Readers
Pages: 390
Series: No
Rating: 5 Stars
Goodreads